I went looking recently for something different in a motorbike after having my "fast plastic" for the last three years. I spent a while looking at a huge variety of models online and was put off when I found that a lot of the ones that I thought were great prices for good years were cheaper brands. Until… something made me go, "Cheap Motorbike? – Yes Please".
From Fast Plastic To Chrome Cruiser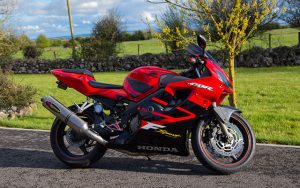 The background to this is that I always wanted two kinds of bike. Over the years, most of my bikes had been sports models, but never fully dressed or were incomplete in some way. I wanted something beautifully faired and fast. The other thing that I had always wanted was a cruiser… you know, sitting back with feet forward. Well, I had my fast plastic for the past three years in the form of a particularly beautiful Honda CBR 600 F4i with some aftermarket bits that gave it a distinct speed advantage over its standard equivalents. It hadbeen well minded, having previously belonged to Kevin Casey Jnr from KC Motorcycles in Tullamore, really nice guys, there. But, it was time to scratch that other itch in my brain that kept whispering, "it would be a lovely day for a cruiser, y'know". I would happily have kept the CBR and enjoyed the best of both worlds, but my budget was not unlimited, so I needed to sell to buy. I wanted a good motorbike, obviously, but I wanted a cheap motorbike.
Cheap Motorbike To Go Please!
It's not that I have or had any great degree of snobbery about bike marques. We all are taken in to a degree by marketing and we are all heavily influenced by our peers. So when it comes to high value products, by which I mean something more expensive than your weekly shopping items, we tend to think that if it's from a lesser (read cheaper) brand, then it must be of lesser quality… right? Maybe not. At least, not necessarily. We are programmed to believe that whatever is more expensive or from a more established manufacturer must be inherently better. I beg to differ.
What changed my mind, funnily enough, was a thought process that evolved in the world of cars, not bikes. It so happens that I was getting yet another issue sorted on my car, one of very many issues that varied from standard faults to the head-shaking "never-saw-that-one-before" types. In the process of getting this sorted I borrowed a Hyundai Santa Fe jeep from the mechanic, a talented guy by the name of Danny Peavoy. On the day that I was returning with the jeep I was struck by a thought that made me entirely re-assess my criteria for deciding which "cheap motorbike" to shortlist as I looked around online.
My last three cars had been a VW, a Volvo and a Nissan. These three big names from Germany, Sweden and Japan, respectively, would generally be taken to be a reasonable bet for reliability. My experience says otherwise. A car is a car and any car can develop problems, but while I regularly saw issues with my cars (the least amount with the Nissan), my wife covered not much less mileage in her little Korean Hyundai Coupe up and down our country roads and went through services and tests with never an issue.
This was an eye opener for me and that is when I started to see possibilities in bikes that I had previously passed over as being cheap Koreans. One make in particular that had struck me was Hyosung. I had seen them occasionally in Bikeworld in Dublin or at bike shows and thought they looked the part. I had already test driven a Harley 1200 Sportster in Tipperary, and was ready to do the deal, but had to do a rethink on the money I had available, particularly because I knew I'd have to spend a fair bit on getting the bike fixed up. I spotted a Hyosung GV650 Aquila sports cruiser on DoneDeal.ie looking resplendent in black and chrome and this was a 2011 bike going for a few hundred less than the '95 Harley! This bike looked absolutely gorgeous. Cheap motorbike, good age, good looks?… yes please! I was ready to take a chance.
So, I picked up the phone, called ahead to prep a deal with the seller and arranged to go down to Wicklow with everyone in the jeep. I had a helmet and gear in the back, so all going well I would ride back on my "new" sports cruiser and Louise would take the jeep.
A couple of hours later we were in Wicklow and the minute the guy pulled the dust cover off the bike, I fell in love. This ticked so many boxes for me. The styling, the riding position, the handlebars, everything! I did a deal, got another few quid off from asking price, filled out the paperwork and we were on our way, back down the motorways towards home.
Straight away I could not believe the handling. This bike could take corners like gravity didn't exist! You could literally throw this thing around the place and pull it back for more. Louise has accused me several times of mistaking this cruiser for a sports bike with the way I ride it. On the way home, we stopped into the Apple Green service station on the M4 and I grinned the whole way around the long arcing off-ramp leaning hard to the left before flicking hard right to head into the parking area. I was a happy buyer.
Over the next few days I did a bit more research, there was one minor issue niggling me – a clutch problem where there was a little difficulty finding neutral while the bike was running. But, I'd ordered a clutch cable (no issue getting parts) and with the help of a good friend, Colm Doorley, that was sorted.
Not All a Bed of Roses
The only thing that really became a bigger issue was that the standard exhaust can on this bike is massive… I mean, this thing had to have been modelled on a bull-nosed truck exhaust and it was heavy. That's probably fine on nice clean urban streets and motorways, but I live well out into the countryside, on crappy roads and down a laneway that was designed to stress-test the suspension on proper off-road jeeps. So, after having the bike for a few weeks I headed off to work one morning, thought I heard peculiar metallic clank a short while later and then thought that the bike never sounded better. So, I pulled in a couple of minutes later and had a look only to find that the exhaust can had separated from the rest of the system.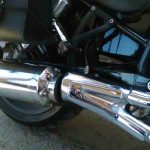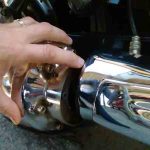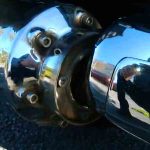 Not good! But… this turned out to be a good thing. I rode over to Paddy Costello in Central Motorcycles in Tullamore that evening, knowing that Paddy was possibly the biggest bike breaker in the country and might be able to sort me out. As it happened, he pointed out that he could possibly weld the break, but that the combined weight of the can and the odd "support" bracket would likely cause a break again, given the poor roads that I have to use.
We looked at options and settled on a couple of stacked slash-cut pikes that seemed to "aspire" to having a baffle more so than actually engaging with the idea. So, I've ended up with a cheap motorbike that I think looks pretty bad-ass, handles like it should not be able to handle and sounds like a monster, occasionally spitting a little flame when winding off the throttle.
Did I learn a lesson here?
Do I miss my fast plastic? Hell, yeah! I'd probably go and by a CBR1000 tomorrow if I had the money to spare… but I would do so while keeping this little beauty too. I think the lesson here for me was that I may have jumped on the bandwagon of sneering (even if unintentionally) at smaller brands and labelling them as "cheap rubbish". In opening up my mind, I saved myself a bit of money and got a cheap motorbike that looks good, is great fun to ride and sounds awesome.